What To See In London
Buckingham Palace
Buckingham Palace was built in 1705 for the duke of Buckingham. Since 1837 it has provided a place of lodging in London for the Royal Family when St James's Palace was deemed to old fashion and underwhelming.

The most famous of the UK's Palaces, is home to many state events and receptions held by the Queen throughout the year and is very much a working and the centrepiece of Britain's constitutional monarchy.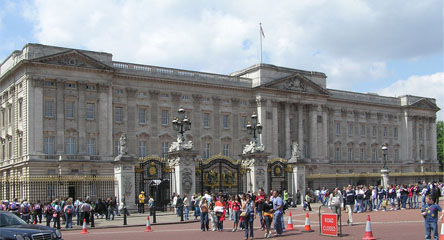 Where is the Palace?
Buckingham Palace Rd, SW1.
The closest tube stops
are St James Park, Victoria & Green Park.
Tickets:
From late June until early October you can take a tour inside the Palace - prices range from £8 for children to £40 for a family. Checkout
The Royal Collection
for more details.
Inside The Palace
The working heart inside the Place are the State Rooms and they house some of the finest treasures of the Royal collection. There's paintings, sculptures, porcelain and some of the most exquisite English and French furniture. In 2012 there's a special exhibiting of Royal Diamonds: 'A Jubilee Celebration' - Don't miss it!
Changing of the Guard
Without a doubt, the Chaning of the Gaurd is a London 'must see' attraction - that is, if you can shuffle your way through the crowds to catch a glimpse. Gaurd Mounting is the official name of the ceremony and involves the 'old gaurd' (Foot Gaurds of the Household Regiment) coming off duty and being replaced by the 'new gaurd'. It takes place on the forecourt of the Palace - you can't miss the crowds, bright red uniforms, bear skin hats as well as a bit of shouting and marching.
Changing the Guard takes place at 11:30 daily from May until the end of July and on alternate days for the rest of the year, weather permitting. For more information check out
Changing of the Gaurd