What To See In London
London Eye
The London Eye is one of the city's most popular and loved attractions. Standing at 135 meters tall, it's the tallest ferris wheel in Europe and has a diameter of 120 meters. Each year over 3.5 million people take a flight to enjoy the spectacular views of London. In peak times it can get crowded, so you might want to book ahead online or you can just soak up the atmosphere and enjoy the surrounds as you await take off.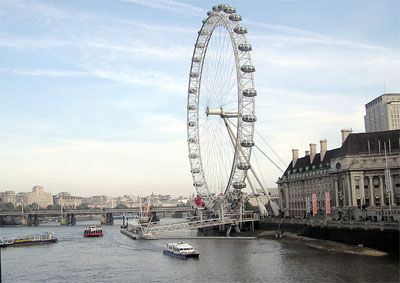 Where is the Eye?
Riverside Building, County Hall, Westminster Bridge Road, London SE1 7PB (You cant miss it!)
The closest tube stops
are Waterloo, Embankment, Charing Cross and Westminster
Opening Times:
January - March daily 10.00am - 8.30pm, April to June daily 10.00am - 9.00pm, July and August, daily 10.00am - 9.30pm, September to December daily 10.00am - 8.30pm
Tickets:
Start at £17 - check the
London Eye
website for further details and online bookings.
Cool Facts
Building of the Eye wasn't easy. Construction took seven years and relied on the skills of hundreds of people from around the world


On a clear day, from the apex of the flight you can see around 40kms. You'll find yourself peering into the Queen's garden at Windsor Castle outside of London


Up to 800 people travel on the eye each revolution. Thats how they get 3.5m people per year to take flight


A flight lasts 30 minutes, so you'll have loads of time to take photos and take in the breath taking views.


The Eye is heavy - 2100t in fact... thats a whole lot of metal in the sky!