Burlesque Clubs
...Sexy, saucy sintilating!
Burlesque Clubs
London has some fantastic burlesque clubs
that we can thank the French for. What a great concept - cheeky sexy show girls, great food and wine and a fun atmosphere to share with friends.
Some people are initially turned off by the thought of burlesque but I can assure you, the clubs and shows are a
lot of fun
and in no way deragoratory. So put your dancing shoes on, bring your sense of humour and prepared to be entertained!
Burlesque Clubs Quick Links:
Insider Tip: For a great night out, check for dinner, show and after-party packages.
---
Proud Caberet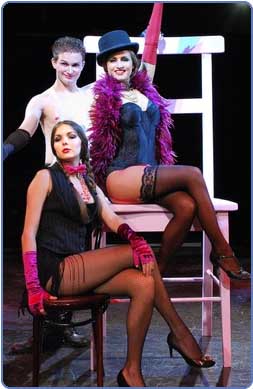 One of the newest burlesque clubs in London, Proud Caberet is a stylish, sexy City venue that is modeled on a 1920s speakeasy. They offer fine dining and entertainment in surroundings that are sophisticated and glamourous. Wednesday to Saturday, from 6.30pm the kitchen is open and serves beautiful British cuisine while the informal bar area is catered for with a lighter menu. Fine wines, beers and cocktails are on offer as you party the night away. Check the website for shows and finer details.
Opening Hours:
Mon - Sat: 11:00am - 3:00am
Check the web for times & tix
Closest Tube:
Tower Hill / Monument
Phone:
+44 (0)20 7283 1940
Web:
www.proudcabaret.com/
Address:
1 Mark Lane, City of London, Greater London EC3R 7AH
---
Wam Bam Club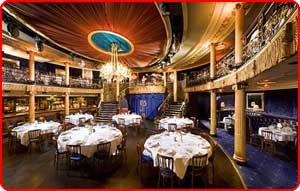 Cafe de Paris plays host to the Wam Bam Club every Saturday night and is the UK's BIGGEST burlesque night. Lady Alex the hostess will take you through a night of laughs, magic, caberet and a wicked naughty world of seduction. You can watch the show from the bar or take a seat and enjoy fantastic meal while the fun unfolds. Cocktails are the order of the day on the drinks list! Check the website for tickets!
Opening Hours:
Doors: 7:00pm
Show: 8:00pm - 10:00pm
Aftershow party: 10:00pm - 4:00am
Closest Tube:
Leicester Square / Piccadilly Cirus
Phone:
+44 800 242 5753
Web:
www.wambamclub.com
Addresses:
Cafe de Paris, 3 Coventry St, Piccadilly Circus, W1D 6BL
---
Volupte Lounge
At Volupte Lounge you'll be treated to a delectable 3 course meal all while the live burlesque show unfolds. Volupte Lounge "is a world of pleasure, exquisite delight, and sharing. Of decadence, richness, indulgence and extremities." Drinks are served from the stunning cocktail bar while there is a selections of wines and beers available also.
Opening Hours:
Tue: 12:30pm - 12:00am
Wed: 12:30pm - 1:00am
Thu: - Fri: 12:30pm - 3:00am
Sat: 2:00pm - 3:00am
Closest Tube:
Farringdon
Phone:
+44 (0)20 7831 1622
Web:
www.volupte-lounge.com
Address:
7-9 Norwich St, London, EC4A 1EJ
---
The Peacock Bar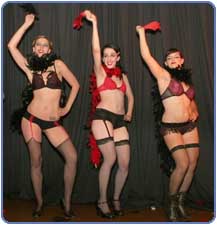 The Peacock Bar is an award winning late night bar, restaurant and nightclub venue. The Peacock twist is that the bar combines the cheesiness of a retro with burlesque club and cabaret entertainment to create a fantastic fun and unique night out. You'll love the great service and style of this club.
Opening Hours:
Fri - Sat: 5:00pm - 2:30am
Transportation:
Clapham Juntion Rail
Phone:
+44 (0)20 7223 9633
Web:
www.the-peacock-bar.co.uk
Address:
148 Falcon Rd, London, SW11 2LW
---
Bathhouse Bar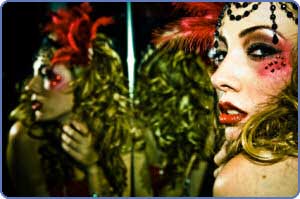 The Bathhouse is a late night basement bar in the heart of the City. The venue regular hosts live music and DJs as well as burlesque/ caberet performances. The Bathhouse house has recieved a long list of awards and is regularly featured in the press. Cocktails, international beers and wines are on offer.
Opening Hours:
Mon - Thu: 8am-2am
Fri: 8:00am - 6:00am
Sat: 8:00pm - 6:30am
Sun: 8:00pm - 2:00am
Closest Tube:
Liverpool St
Phone:
+44 (0)20 7920 9207
Web:
http://www.thebathhousevenue.com
Address:
8 Bishopsgate Churchyard, London, EC2M 3TJ
---
Bethnal Green Working Mens Club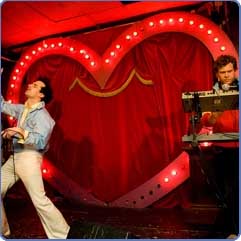 The Bethnal Green Working Mens Club is a retro wonderland. Expect quirky, expect rock'n'roll and most of all expect fancy dress burlesque club parties. The atmosphere is aways friendly, fun and welcoming - just one thing, come in fancy dress or you might get turned away. Oh, and cash only!
Opening Hours:
Check 'What's on' on the website
Closest Tube:
Bethnal Green
Phone:
+44 (0)20 7514 1700
Web:
www.workersplaytime.net
Address:
42-46 Pollard Row, E2 6NB
---
Royal Vauxhall Tavern
The Royal Vauxhall Tavern is a regular London pub with a twist. They love burlesque - who could blame them? In 2010 the Fringe Report rated the RVT 'Best Venue' and there is a long line of various acts that have perfomed here from musicians, to comedians and of course Bulesque entertainers. Check the website for the latest happenings!
Opening Hours:
Mon, Wed, Thu: 7:00pm - 12:00am
Tue: 6:00pm - 12:00am
Fri: 7:00pm - 2:00am
Sat: 2:00pm - 12:00am
Closest Tube:
Vauxhall
Phone:
+44 (0)20 7820 1222
Web:
www.rvt.org.uk
Address:
372 Kennington La, London SE11 5HY
---