What To See In London
Tower Of London
The Tower Of London also known as Her Majesty's Royal Palace and Fortress is a historic castle nestled on the banks of the River Thames in Central London. Norman Conquest of England founded the tower towards the end of 1066 and the white tower (from which it gets it's name) was built in 1078 by William the Conqueror and was a widely resented symbol of opression the new rule inflicted upon London.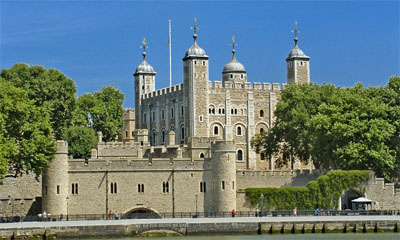 Since 1100 the castle was used as a prison although that was not it primary purpose. In it's early history is was a grand palace and served as a London residence for the royal family. The complete complex consists of several buildings set within two perimiter defensive walls and a moat.
Where is the Tower?
Tower Hill, Central London(You cant miss it!)
The closest tube stop
is Tower Hill
Opening Times:
Tuesday - Saturday 9:00am - 16:30pm, Sunday - Monday 10:00am - 4:30pm, Last admission 4:00pm
Tickets:
Start at £10 - check the
Tower Of London
website for further details and online bookings.
Over the years the Tower has played many different roles; as an armouty, a treasury, a menagerie, the royal mint, a pulblic records office and the home of the Crown Jewls of the United Kindom. It's all of these varied roles and the rich history that make the Tower such an interesting and exciting attraction.
Must Sees at the Tower Of London
The White Tower: One of the world'd most important historic buildings and an iconic symbol of London. The White Tower generally houses various exhibitions for visitors to enjoy.
Fit For a King: Gain an extrodinary inside into the personalities, power and stature of England's past kings with a spectacular display of 500 years of royal armour.
The Crown Jewels: 23,578 gems make up the Crown Jewels - be amazed and dazzeled by the world's most famous diamonds housed in the tower's Jewel House.
The Royal Beasts: Discover the extraordinary stories of the Tower's Royal Beasts that for over 600 years were held captive within the perimeter.