London Cabs
...A to B and back again!
London Cabs
London Cabs are as icononic as London Bridge, Big Ben and the Queen. As soon as you arrive you'll notice London black cabs zipping around the streets, ferrying people around the city.
Insider Tip: Not all London Cabs were created equal. Black Cabs can be hailed and are renowned for reliability and speed. A Minicab is a pre-booked hire car service that can not be hailed, service can vary but they're generally far cheaper than a black cab.
London Black Cab
Every London vacation should include a ride in a London Black Cab. They're a safe, reliable and a good way to zip around the city and take in the sights on your way to a destination.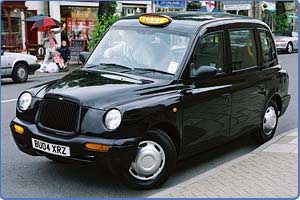 Black cabs can be hailed and they are literally all over London so you'll never have trouble finding a ride. All drivers must pass a skills and knowledge test to become a driver and trust me, these guys know there stuff when it comes to London streets.
For those with a wheelchair Black Cabs are a great choice. The majority have additional aids for disabled passengers.
Fares & Tipping:
There's a minimum charge of £2.20 and licensed to carry five people. You won't be charged for the number of people or luggage. It's customary to tip by rounding up the fare to the nearest pound.
Make a Booking:
There's no need to book a London Black Cab. All airports and other public transport depots are well serviced. Just give it a minute or two and you'll be on your way.
London Minicab
If you don't fancy taking a bus or the tube a London minicab is a great option. Basically, minicabs are pre-booked hire cars that are cheaper than black cabs. They're independantly run, located all over London and many operators have shop fronts where a journey can be booked. Alternatively, you can phone or email in advance to book your ride.
Fares and Tipping:
You're fare is pre-determined and should be quoted prior to your journey. It's worth checking out a couple of companies just to make sure you're getting a good deal
Make a Booking:
Hostels and hotels will have a list of reputable local companies that you can pre-book your journey with. It's a good idea to organise your
airport transfer
prior to your arrival.
---