Parks In London
...Run, ride, walk, skate, relax
London Parks Quick Links
Parks In London Intro
Parks in London are immense. It's amazing that these beautiful, peaceful green open spaces exists amongst a city of excitement, hustle and bustle and millions of people going about thier day.

Londoners love the city's parks. Rain, hail or shine, you'll find activities taking place. Parks in London are particularly popular during the summer months with the locals getting thier fix of sun.
Insider Tip: If you're looking for a burst of seasonal color, head to Green Park in spring and see 250,000 daffodils come to life.
One of the beauties of the parks in London is thier location. Smack bang in the middle of the city and you guest it, ride by countless other tourist attractions. So, whether you've planned it our not, you'll find yourself near one of these great parks. Go on in, take a look around.
---
Green Park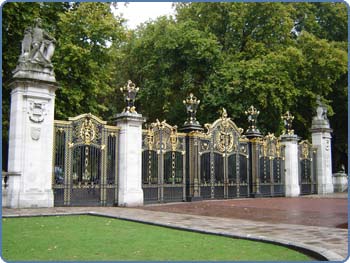 Green park is quite different from it's neighbouring
St James's Park
. Many come here for it's tranquility and peacefulness. The park is bordered by Constitution Hill, Queens Walk and Piccadilly and you'll find the trees and grasslands to be more mature.
Originally known as Deer Park, King Charles II created the commissioned the park in 1668. It was the home of one of Britains first Ice Houses.
Green Park Attractions
41 Gun Salute
Important state visits and the Queens birthday (14th June) see a 41 gun royal salute. The peaceful park awakens with this spectacular event.


Canada Memorial
A tribute to the Canadian people's contribution to WW1 and WW2. The mural is unmistakable as it is decorated in Canadian maple leaves.


Canada Gate
The stunning Canada Gate (pictured above) was installed in 1908 celebrating Canada's involvement with the British Empire and in particular, Queen Victoria.


Daffodils
The beautfilly peaceful Green Park is treated to a blaze of yellow as the spring daffodils come to life. For a few weeks the park is not only Green. Well worth a look if you're here at the right time!


Green Park Transport - Tube
Green Park
Hyde Park Corner
Green Park Park Eating and Drinking
Refreshments
Green park has 2 refreshments stands. The first is in the northeast corner of the park near Green Park Tube and the second is in the southwest corner as you approach Buckingham Palace. Green Park is a popular picnic spot and there are supermarkets on the bordering streets where you can pick up all the supplies you need.
Green Park Hotels
A list of the best hotels near Green Park will be added here soon!




---
Jump to Hyde Park, St James's Park or Green Park
---